As the title suggest, post your conlang's phonology, particularly in the IPA (though it doesn't really matter). I thought this would be an interesting way to compare everyone's phonology, and even see what other conlangs hold the same sounds our own do.
Here's mine, for example:
Consonants

Vowels
Diphthongs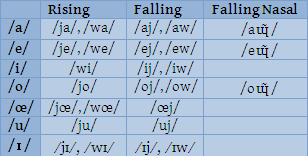 P.S. Yes, this is a chance for you to brag about your conlang's phonological inventory. Get with it!