I've read about last glaciation in Europe, which resulted in presence of several refugia of human and animal populations: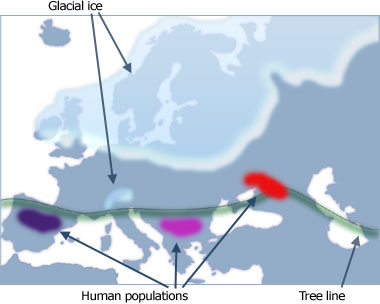 These refugia were confined to forests in southern parts of the continent, and these forests were separated from each other by seas, tundra and glaciers in Alps and Pyrenees. Further north, Europe was dominated by tundra and of course ice cap.
After the ice cap slowly retracted, populations from the refugia repopulated Europe: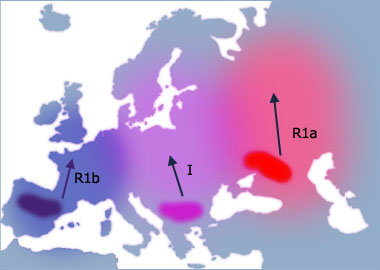 Now, here is my question: Does the presence of refugia with forests indicate, that tundra was unhabited by humans? Nowadays, there are tundras, too, and people live there (not particularly numerous, but still). Or maybe ice age human population was so small, that all of contemporary europeans could live in forested areas (which had better climate, more material for shelter, etc, and perhaps richer food resources... at least I think so), and so no one lived in tundra, because no one had to? And was any migration possible between refugia?
I'm asking, because I've decided that ice age Europe would be initial setting of my diachronic conlanging project, and I'm not sure if it would be realistic to create much linguistic diversity (different language families and sprachbunds) between the three refugia, assuming that it would require little or no contact between inhabitants of these areas. Perhaps I should step away a little from history of Earth, making last ice age of my conworld more severe (with glaciers reaching further south), to make it plausible?
Images above come from these sites:
http://history.earthsci.carleton.ca/har ... terson.htm
http://www.iceagenow.com/Ice-Age_Maps.htm
In the first link I've read:
Quote:
The journey of people in this lineage was strongly influenced by the large continental ice sheets that covered much of northern Europe at this time forcing them to remain in southerly refugia in Spain, Italy and the Balkans
However, the quote speaks of ice sheets, not tundras, and as I wrote, these doesn't seem to be impenetrable barrier to me... but I'm not sure, so I preferred to ask.