Anyway.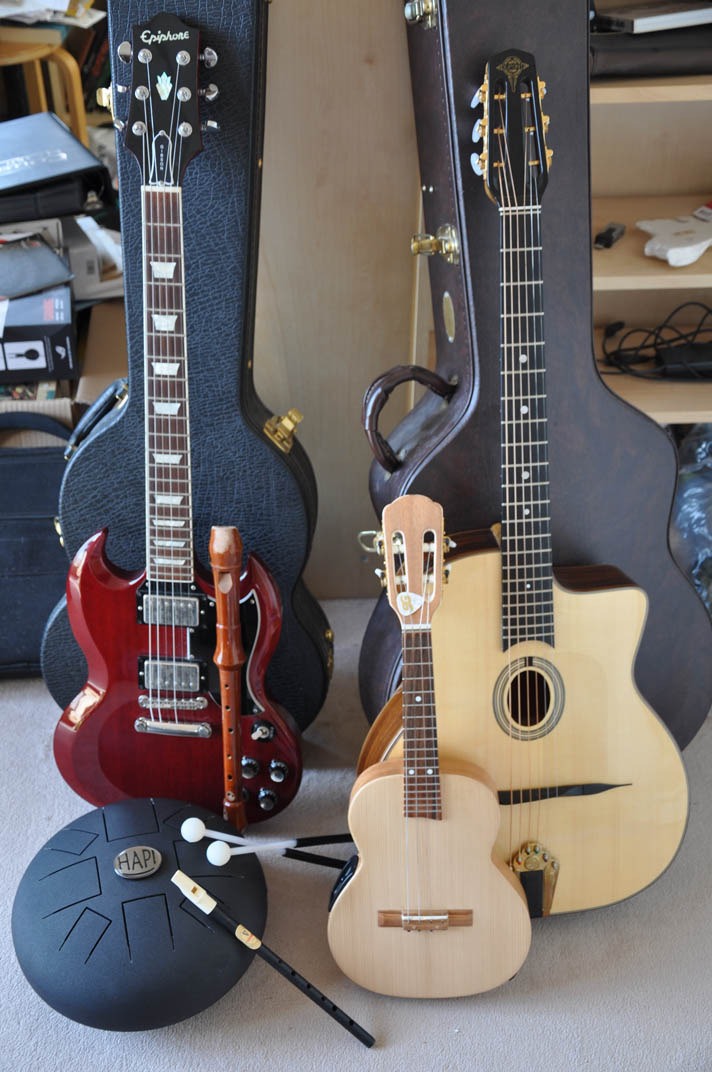 So I have:
—Electric guitar, Epiphone elite SG (rather high quality Epiphone, actually better than some Gibson guitars), with a special home tuning in FCGDAE (that's basically a tuning in fifths, except I cheated because DAE are one octave lower than expected, so it's also a re-entrant tuning, much more manageable than a genuine tuning in fifths on the guitar, the only real trick is that the G and D strings have exchanged their positions)
—Accoustic guitar, Maurice Dupont MD50 (high quality replica of a Selmer guitar)
—Cavaquinho, hand made (luthier unknown), a small guitar Portuguese in origin, also very popular in Brazil, ancestor to the ukulele, but with notable differences (metal strings, higher string tension, higher range, thinner neck, all in all, if the ukulele is easier to play than the guitar, the cavaquinho is
harder
than the guitar).
—Alto recorder (this one was made back in East Germany!)
—Tin whistle (put it in for the lulz only really)
—HAPI drum in G minor.
For now I am mostly focusing on the cavaquinho, because I like this little bug very much (and it's hard to practice several instruments simultaneously).