Torco wrote:
Is it not terribly reactionary and all family traditional values muh jesus asdaogag to go "marriage is not good because divorce" ? I mean, it amounts to saying marriages that last 12 years and then end are like failures, and that No True Marriage unless Forever and all of that shit that made perfect sense when we had no medicine or condoms but is total bs now.
if there are places outside nyc where you'll be shot down for saying that the high divorce rate might not be a good thing, i don't know of them. how are medicine and condoms relevant?
alynnidalar wrote:
Besides, the "half of all marriages end in divorce" statistic isn't accurate. The divorce rate is actually primarily going down, in the US. (not for every group, of course, but on average) According to
this article
, the divorce rate peaked at around 41% (average for all people who had ever been married) in the 1970s and has been going down since then. (there's other, newer articles on the subject, that's just the first one I came across that actually had a statistic for the peak in the 70s)
i'm familiar with the statistics.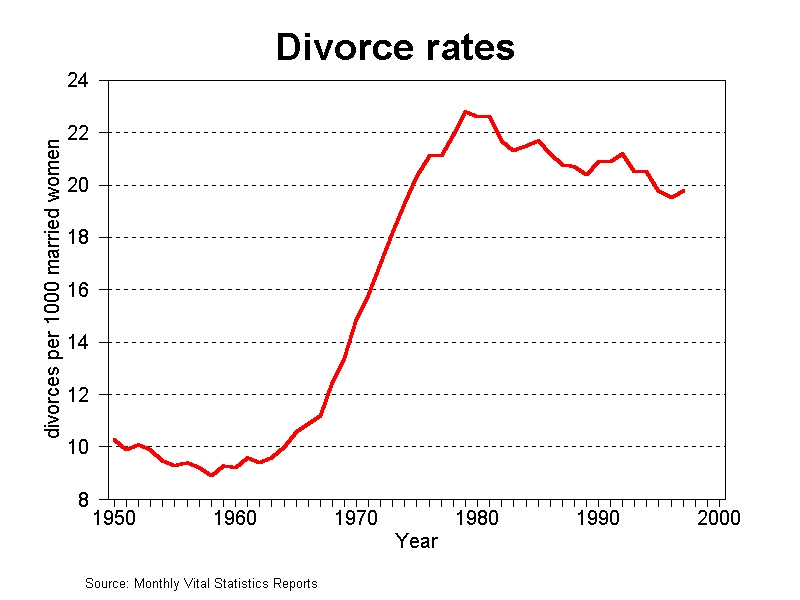 but how much of that decline is people just not getting married? and even so, it's still far above where it was.
i wonder what the statistics for children look like -- what percentage of children have unmarried parents, what percentage have divorced parents, and so on. [i would guess that, as you go up the class ladder, likelihood of marriage increases, likelihood of divorce decreases, and number of children follows an inverted-J curve, but i don't know.]
marriages that end in divorce after twelve years will mean, if there are children, that the children now have divorced parents, at ages between zero and twelve. which, speaking from experience, kind of sucks. [in my parents' case it was inevitable, but still, it kind of sucks.]
then again, there are some visible-to-me benefits of no-fault divorce, in that my father did not have to run away to michigan, whereas my grandfather did. but this is an anecdote and should not be taken one way or the other as far as the general effects.
Yiuel Raumbesrairc wrote:
That, though there was still improvment. However, when you look at the Kings of France, where you have a lot of legitimized bastards, it's hard to believe fidelity was that much of an issue...
always and everywhere, the upper classes fuck around. some societies [like the pre-christian norsemen] formalize it [i.e. have polygamy], and some societies [like america] try to push it under the rug, with the hilarious result that people were surprised about the epstein thing.
probably everyone else does too, and it just doesn't get into the news. there is a bit in that one huizinga book about medievals fucking in churches -- apparently you could even find prostitutes there, searching for customers.
oh man where's that anecdote about kim jong-un going to boarding school in switzerland and getting caught with bondage porn